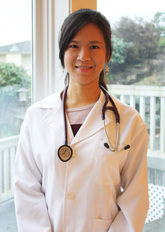 We are pleased to be welcoming Dr. Yipei Lin to our team of excellent healthcare practitioners at Maya! Dr. Lin offers a wide variety of treatment modalities including acupuncture, Eastern and Western herbal medicine, manual therapy, moxibustion, cupping, counseling, nutritional consultation, homeopathy and more. With the addition of Dr. Lin to our staff, we will be able to provide you with an ever broader scope of holistic health and wellness possibilities.

Dr. Lin is a Naturopath Doctor, East Asian Medicine Practitioner, and Licensed Acupuncturist in the state of Washington. She focuses on family medicine, pain management, gastroenterology, endocrinology and rheumatology. She graduated from Bastyr University with a doctorate degree in Naturopathic Medicine, master degree in Acupuncture and Oriental Medicine. She is also a diplomate of National Certification Commission for Acupuncture and Oriental Medicine (NCCAOM) in Acupuncture and Chinese Herbal Medicine. Prior to this, she completed her bachelor degree in psychology at University of Oregon. Dr. Lin completed a fellowship in Oriental Medicine in the Teaching Hospital of Chengdu Traditional Chinese Medicine. While doing her clinical training at Bastyr University, she was a Nutrition Research Assistant for Dr. Alan Gaby, MD, who published the textbook, Nutritional Medicine. Dr. Lin was also an Oncology Research Assistant for Dr. Leanna Standish, PhD, ND, Lac, who is a medical director of Bastyr Integrative Oncology Research Center (BIORC) and a clinical research professor at the Bastyr University Research Institute. Dr. Lin integrates both Western and Eastern Medicines to address the cause of illness and promote the nature of self-healing. Dr. Lin listens carefully to patients, and fully addresses issues of body, mind and spirit to develop treatment plans to obtain optimal health and full life enjoyment.

Dr. Lin will be available to see patients at Maya Whole Health beginning April 14th. Appointments available Sunday-Thursday, on a varied schedule, including some early morning and evening options. Call us today at 425.271.0200 to schedule an appointment.