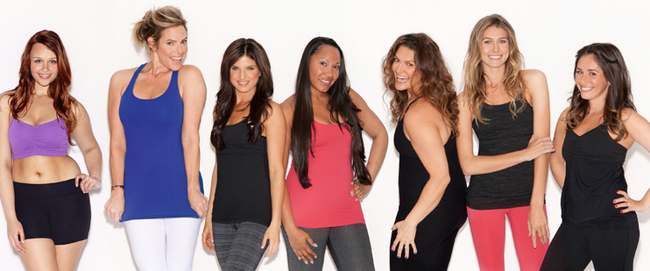 BEYOND YOGA is an activewear and lifestyle brand that combines functionality, comfort and style. Designed with every body type in mind, BEYOND YOGA offers flattering, fit-focused collections that move effortlessly from day to night, and from the gym to meetings and beyond. BEYOND YOGA believes that every woman should celebrate their body. Beauty is not a size, it's a state of mind.

Made with love in the U.S.A., BEYOND YOGA is crafted from luxuriously soft yet durable, wash-and-wear fabrics. Its collections are produced in sizes XXS-XL to fit every body type–from size 0 to 16, and from petite to curvy. Each piece is meticulously designed and tested to ensure optimal comfort and functionality–from bra straps providing adequate support to elastic-free waistbands preventing uncomfortable digging and bulging.

Blaire's take on BY...Next time you are in the studio try on a pair of Beyond Yoga's quilted capris or the sassy neon pink multi-cross tank! The fit is so flattering and the style is even better. I love every piece we have in the boutique! Unlike many other activewear brands, Beyond Yoga really feels like it is made for every body type. I'm so excited that we could bring such a great product into Maya. I truly feel that Beyond Yoga represents Maya's core values, which are to celebrate your body, tread lightly on the earth, and be kind to yourself and others.