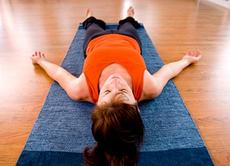 Sunday, March 23rd 2:30-4:30 PMCost: $30.00
Annual Member 20% discount applies
Our current way of life has brought about a dispersion of human energy on all levels. We have lost an awareness of what is happening to us in the midst of concerning ourselves completely with a material existence. Whether you think too much or not enough, whether you work too much or not enough, or sleep too much or too little, you accumulate tension. Knowing how to free yourself from tension offers freedom from many of life's problems. The practice of yoga nidra is the scientific method of removing these tensions and bringing balance to the internal energy system of our chakras.
Through the practice of yoga nidra, we are not only relaxing, but restructuring and reforming our whole personality energetically from within. We are burning away old habits and tendencies of the mind in order to be born anew. The secret to this transformation is conscious relaxation and peace.
The yogic texts all unequivocally state that peace can only be found within, never without. Therefore, if we wish to create a more peaceful world, we must first learn how to turn our attention inward, to relax and harmonize our own body and mind. Yoga Nidra is not only an incredible technique to help realize your true nature, but it is a priceless resource for recovering from any physical, emotional or mental turmoil you have experienced in your life. Stress, fatigue, anxiety, ill health, confusion, and unwanted habits can all be removed with the help of Yoga Nidra. Insomnia can be cured and the ability to experience deep, restorative sleep can be attained.
This workshop will include some asana practice to prepare us for guided meditation. Please come dressed to move and be comfortable, layers are always good and/or a blanket. Some experience with yoga recommended, no experience with mediation necessary.Pre-registration is strongly recommended
.
Register Here