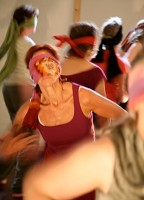 "Participating in a Trance Dance gives the opportunity to connect more clearly with your heart," says Alec Davis, facilitator of the Trance Dance events. "All of us spend a great deal of time in our rational mind; this is the chance to really listen to our heart versus our head."
Trance
Dance
is a unique blend of body movement, healing sounds, dynamic percussive rhythms, transformational breathing techniques and the innovative use of a blindfold or bandana - together stimulating a '
trance
' state that promotes spiritual awakenings, mental clarity, physical stamina and emotional well-being. Driven by unique musical soundtracks recorded specifically for this method of healing,
Trance
Dance
takes participants on an 'inner journey' not limited to our normal perceptions of space/time. Ritual
trance
journeys have been a vital part of shamanic and eastern
dance
cultures for thousands of years.
Alec will lead Trance Dance at Maya Whole Health on
April 26th, from 6:30- 8:30 PM
Bring a water bottle, bandana, and intention
Pre-Registration is strongly recommended.
Register Here
For more information about Trance Dance visit
http://www.trancedance.com