We've all heard that old saying, "You are what you eat." From a Traditional Chinese Medicine perspective it could be said, "You are as healthy as the food that you eat." Join Diane Yeh and explore the healing benefits of food and learn how to make informed choices about the food you consume in relation to your own body's needs as we move into Spring.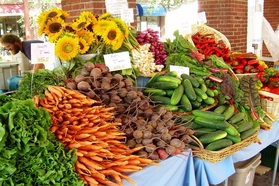 Saturday, April 5th
5:00-7:00 PM

Cost: $40
(Annual Member 20% discount applies)
This workshop will address the concept of "functional food" going into
spring. You will learn to preserve your health by making informed choices about the food you eat. Food offers healing benefits apart from nutrition, this is what links diet and Traditional Chinese Medicine. Food is considered more than just sustenance; it contains therapeutic properties. While acupuncture and massage may be used to treat an ailment, and herbal mixtures infused to make teas, the first line of treatment is usually diet itself. Why different foods are consumed each season and what are their health benefits? Questions like this and more will be address in this imformative workshop.
Pre-registration is required.
Register Here

Note: This series may be cancelled 48 hours before it is scheduled to begin if minimum registration is not met.