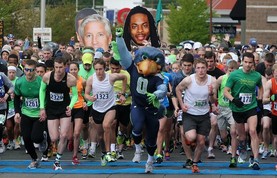 This Sunday, April 13th, 2014, Maya Whole Health
will be serving as a sponsor for the Seahawks 12K Run, which benefits
A Better Seattle
. ABS is a Seattle Seahawks community initiative led by Head Coach Pete Carroll. ABS works to reduce Seattle area youth and gang violence by forging partnerships that generate opportunities for at-risk youth to take control of their lives and strive for better futures. They partner with the YMCA of Greater Seattle's Alive and Free program and the Seattle Youth Violence Prevention Initiative to mobilize critical resources to transform the lives of youth.
We have cancelled all of our morning classes in support of this event. Please join us, along with a few current and former
Seahawks
players, at
1:00 PM
for our Community Benefit Class with Michelle Peterson. This class will be offered on a donation-only basis, with all proceeds going directly to the
Cascade Valley Hospital Foundation- Oso Landslide Relief Fund.
This fund is totally directed by a group of trusted local leaders from this tight-knit community, folks from the frontline of nonprofit, small business, faith, and volunteer fire department , who are taking requests directly from affected community members and doing outreach to determine community needs in the wake of this disaster.
This effort has a special place in the hearts of many of the Maya community, who have direct connections through family, friends, and through our Yoga & Nature retreats series, as we typically travel through that community on our way to the North Cascades Environmental Learning Center each month.
Read more about the Maya connection to the
Community Benefit Partner of the month
.
Interested in participating in the 12K or 5k run this Sunday??
Join the Maya Life Lovers team!
Use discount code MayaLifeLove to receive $10 off registration fees.
And keep yourself fit and ready for all sorts of fun events throughout the summer with Maya classes geared towards repetitive motion athletes::
Yoga for Runners and Other Athletes w/ Alec Davis
Mondays @ 6:30 PM
Life Strength Conditioning w/Yamar Washington
Tuesdays @ 4:30PM, Thursdays @ 6:30AM, Fridays @3:30PM
Restorative Viniyoga w/Kristen Swanzy O'Connor
Wednesdays @ 9:30AM
Restorative Yin Yoga
w/Heidi Keith, Thursdays @ 10AM
w/Sarah Jordan, Tuesdays @ 7:15PM
w/Suzanne Marquardt, Thursdays @ 7:15PM
Whether our on the race course or in our 1PM class, we look forward to seeing you Sunday!