Over the Rainbow is not your typical self help, guru book. It is a raw, real, honest guide that will show you how to get from where you are, to where you want to be.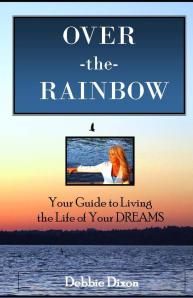 "Rock bottom is a place where life exists in the shadows, lost souls with broken wings unable to fly, wander looking for love in fame and fortune and pain is accepted as a way of life."

I witnessed rock bottom and it looked much like what the media is glorifying as the destination we are trying to arrive at. I was there in the midst of celebrities. I attended parties in penthouses and mansions. I worked all over the United States. I was featured in movies, television, magazines and commercials I was even in the National Enquirer alongside Halle Berry. To most, my life may have looked glamorous. In reality, I was surrounded by sleaze, debauchery, hollow, lost and soulless people who emanated hurt and pain. I watched many walk this very fine line. On one side you give up your soul, the other side is a journey of blind faith, made on foot until you can mend your wing. Often those walking the line would slip and fall, never to be seen again. Swallowed up by the monster labeled "fame and fortune," resulting in the sacrificing of their soul and the separation from their selfless, true nature towards a life of need, greed and speed. Fear lead to struggle, which lead me right off the edge.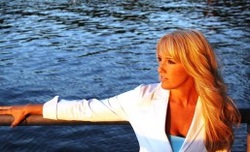 Once at the bottom, I had seen with my own eyes the monster that had eaten many of my friends. I think that was exactly what I had needed all along, to look the monster directly in its eyes and say "I am not scared of you! I know life is good and I intend to prove it to the world!" As I pulled myself out of the darkness and climbed up the mountain of joy, I often looked back and wondered, "why was I able to do it while I am leaving behind so many still lost and lonely?" My curiosity continued to grow leaving me in a constant state of wonder about humans and our capability. This wonder has led me to the feet of many masters and hundreds of books, searching for answers. Over the last 16 years, I have immersed myself in self-inquiry through the practices of yoga and meditation. About 7 years ago I made the transition from student to teacher. As a teacher I had seen people embarking on the climb up the same mountain I had once scaled, and I was able to assist them on their path. I have been to the place that most never return whole from and I have brought back a message I must share. These pages hold that message. I woke up one day, looked around, and found myself nestled among those our society looks upon with disapproval. I realized I was no different. I intend to show you a story of triumph over the confines of jail and drugs, pain and fear. I have transcended from this dark world and discovered a magical formula that allows me to stand in the very same shoes, in the very same location and see a whole different world. This new world is one of beauty and love, compassion and kindness everywhere I look. I have written this book with the prayer that you will witness my journey and watch your world change right in front of your eyes!
Now available for purchase at Maya Whole Health or online through Amazon.com.
Debbie Dixon is an entrepreneur, business owner and yoga teacher who aims to live the life of her dreams by guiding others to live the life of their dreams. She has been holding workshops and seminars for over seven years now, inspiring and motivating people to step outside of their comfort zones and into a life filled with freedom, prosperity, joy, happiness and infinite possibilities. With the Seven Hot Yoga studio she created and runs, she has contributed to her local community by providing a place for transformation, recalibration and reconnection with people's passion, purpose and highest and best good.