Inversions Workshop with Michelle Peterson :: Turn Your World Upside Down!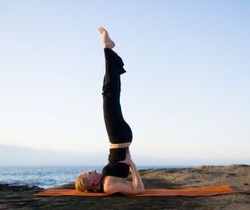 Saturday, May 10th 2:30-4:30 PM Cost: $30
Annual Members receive a 20% discount
As we celebrate spring, open up, clear out, and spring clean
Learn how to playfully explore, handstand, forearm stand, headstand, shoulderstand and some sweet adaptations in this two hour workshop with Michelle Peterson. This workshop will include a moving asana practice with inversion variations including using partners, the wall, and props in a safe and supported environment. Yoga inversions are any pose that places our head below the level of our heart. They include Downward Facing Dog, Wide Legged Forward Bend, and Legs up the Wall.
"A yoga sequence can support the natural detoxification process by increasing circulation, and encouraging relaxation. Inverted poses use gravity to stimulate lymph and blood circulation. Inversions also send new blood to the liver and kidneys, giving them a rush of energy that helps get them detoxing."
–Yoga Journal
Pre-registration is required.
Register Here
Prenatal Partner Yoga with Sarah Jordan & Tiffany Berry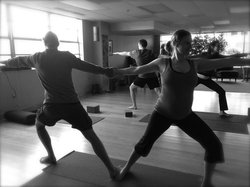 Sunday, May 11th 2:30-4:30 PM
Cost: $30/per person
Annual members receive 20% discount
Preparing Together for a Joyous Welcoming! Bring Your Partner...Or Your Birth Coach...Your Doula...Or Your Mother... Your Sister...Or Your Best Buddy
This 2-hour workshop with prenatal instructors Tiffany Berry and Sarah Jordan will provide an opportunity for you to relax and play together, while learning helpful exercises for the preparation and experience of childbirth and the weeks and months following. Yoga is an excellent way to prepare the body and mind for the transitions of pregnancy and childbirth. In this workshop for expectant mothers and their support person, we will focus on preparing for and supporting a woman in labor. Partner yoga and massage will help you connect with your partner and give you tools for relaxation you can use in labor. We will practice comfort measures, breathing techniques, and laboring positions and discuss what practices are most useful as labor progresses.
No prior yoga experience required. Exercises are designed for building endurance, non-verbal communication, trust and bonding between birthmother and any partner you choose to have involved in process...husband/partner, doula, coach, sister, mother, friend...enjoy a blissful and soothing afternoon together, setting the stage for baby's joyful grand entrance into the world!
Pre-registration is Required
Register Here
Note: This series may be cancelled 48 hours before it is scheduled to begin if minimum registration is not met.