Life Strength Conditioning with Yamar Washington starts Tuesday, April 1st. No, really, tomorrow!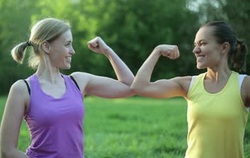 Life Strength Conditioning with Yamar Washington

4:30 PM - Tuesdays (begins the week of March 31st)

6:30 AM - Thursdays (begins the week of April 7th)

3:30 PM - Fridays (begins the week of April 7th)

In this high energy class, we get out of our heads and let go of fears and self-imposed limitations, so that we can find greater strength, flexibility, and agility. Life Strength Conditioning encourages trust in the intuitive awareness each of us have to strengthen, tone, and condition the body to its full potential and provides an opportunity to mix up a regular practice of yoga and Pilates with a higher impact form of conditioning. This class is appropriate for anyone with a moderate level of mobility. If you are able to jog, even at a slow pace, and lift a 2 lb. weight without significant pain, come ahead! Options will be provided for a wide range of fitness and confidence levels. We will explore interval training methods fused with yoga-inspired movement methods to engage our cardiovascular system, as well as various muscle groups and systems throughout our bodies. In the process, we will experience moments of intense challenge and overcome those challenges to experience holistic exhileration. Runners call it "the runner's high". Impact athletes call it "being in the zone". We will have fun and support one another in meeting our individual goals, in an affirming, and non-competitive environment. Get ready to stretch. Get ready to move. Get ready to lift. Get ready to smile. And get ready to love your body.


**Weather permitting, this class will often be completely or partially moved outdoors. Please bring or wear athletic footwear appropriate for outdoor use.

Meet Our New Instructor :: Yamar Washington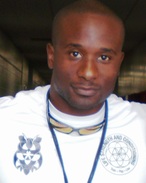 Instructor Yamar Washington grew up in Houston, Texas, immersed in the world of high-impact, competitive sports from the time he could walk. He went on to play football and run track at Indiana University as a student athlete, with a strong interest in academics. He graduated with a major in Communications and Culture (Management focus) and an English Minor, and worked a brief stint in the NFL, signing as an undrafted free agent with the Washington Redskins, before pursuing opportunities in other football leagues. He currently plays Premier League Rugby, competing at a professional level for the few spots available with national level teams. Besides competitive sports, Yamar was also highly influenced by the somewhat contrasting influence of his mother and other family members who practiced yoga and natural healing arts, and he developed a strong interest in traditional medicine and holistic methods of healing and strengthening the body. These combined interests have resulted in a unique perspective on strength conditioning that balances the vigorous aspects of interval training of his athletic background with an affirming orientation towards self-love, appreciation, and intuitive awareness of the body. Yamar has been doing Sports Performance/Personal Training in various settings for nearly 10 years, working with a diverse clientele, ranging from professional athletes to youth sports teams to seniors recovering from surgery to groups of computer jockeys. Much of the choreography he uses in his group work has developed out of collegiate/professional workouts that are modified for the everyday person. If a particular exercise is not a good fit for someone, based on body type or injury recovery, Yamar can provide a modification for just about everything. "I stress that whether somebody is preparing to participate in the Olympics, walk a 5k, or just trying to get the blood flowing again after being inactive for a long time, the equitable connection between mind-body-spirit is the most important aspect towards personal health and performance. Our physical bodies are capable of doing far more than we realize... we just have to remove the mental blocks."