Kenneth & his lovely wife Kaylene, have been coming to Maya for years. You could say they are some of our 'original' clients. Which makes this feature so special to our Maya Family.

Ken's art is a mix of graphic design and photography. Below he describes his work:

"I took art classes in school (before computers) but was frustrated by the slowness of the process. I would have an idea but it would take so long to "get it on paper" I would be looking to the next idea already. Then came computers and the IT industry that fed my analytical side and paid the bills so my art became another hobby biding for space in my day."

He was born and raised on a raspberry farm south of Sumner Washington and has lived in Renton since the early 1990's with his wife Kaylene. His day job is with Hewlett Packard, supporting local customers like Microsoft, Amazon, T-Mobile, and Boeing. Photography has always been a passion and only recently did he start printing his work. One of our favorite things about Ken's art, are the stories behind each piece. Here he describes "Hero, the royal portrait"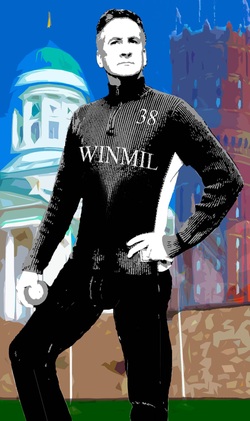 "One day my sister sends me a snapshot of one of her sons in his team uniform in a classic sports hero pose. I never played sports but decided I needed a hero shot of myself as well. Kaylene snapped a shot of me in the morning light on our back deck and then I began to tweak and layer this piece in Photoshop. I transformed the sweater by adding my team number and name. "WINMIL" is a combination of our last names, Winters and Miller. I wanted to create the feeling of an international sports star so I layered in images from our trip to northern Europe. The domed church is from Helsinki and the tower is from Kalmar Sweden. Then utilizing a digital stylus I "air-brushed" in some details like contour lines, color, and remove unwanted elements."


Join us on Saturday, October 18th
The evening will begin at 6:30.
Libations, snacks, frivolity, and art, of course!