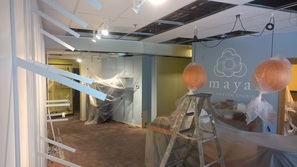 Wow! What a way to cap off the beautiful summer we enjoyed here in the Pacific Northwest...with an indoor torrent of a rainshower streaming throughout our happy place of health, fitness, and joy! And now, as we move into the fall season, Maya Whole Health Studio is also in a transition phase. The restoration work is in full swing, and we have been given a fairly firm assurance that we will be back in operations, with our lovely space gleaming like brand new, by early November.
If you are missing your Maya, like we are missing you, that probably seems like a long ways off, but remember how fast the summer flew by? And here is some great news for all of you missing your classes! We have made arrangements with our generous friends at
Advanced Holistic Health (AHH)
to have Maya instructors offer several FREE classes each week in their lovely light-filled studio, located just a few miles north of Maya Whole Health Studio, just off I405 Exit 7,
at
1800 NE 44th Ste 240 Renton WA 98056
.
These free classes will be held WEEKLY from October 1st-November 3rd:
Saturdays: 9AM Vinyasa Flow & 10:30AM Prenatal Yoga
with Tiffany Berry
Sundays: 8:15AM Group Pilates & 9:30AM Viniyoga
with
Kristen O'Conner
Mondays: 9:30AM Gentle Pilates
with
Kristen O'Conner
Thursdays: 12:15PM Gentle Core Yoga for Seniors and Others
with
Kristen O'Conner
Additionally, we will have a few extra free classes each week, for you to enjoy:
Monday, Sept. 26th: 5PM Hatha Yoga & 6:30 Yoga Strengthening
with Maya instructor Alec Davis
Tuesday, Oct. 4th: 5:45 Vinyasa Flow & 7:15PM Yin Yoga
with Maya instructor candidate BethAnn Switt
Wednesday, October 12th: 6:30PM-7:45PM Vinyasa Flow Yoga
with Maya instructor candidate Bailey Eaton
Tuesday, October 18th: 7PM-8PM Traditional Cupping Technique, Demo and Q&A
with Maya health practitioner Dr. Sean Bradley
Thursday, October 20th: 5:45PM Vinyasa Flow
with Maya instructor candidate Taylor Truett
Thursday, October 27th: 5:45 Vinyasa Flow & 7:15 Restorative Yin
with Maya instructor candidate Jennifer Soames
Friday, October 28th: 5PM Yoga Nidra
with Maya instructor Madelene Matthews
Monday, October 31st: 5PM Hatha Yoga & 6:30 Yoga Strengthening
with Maya instructor Alec Davis

Please note: we will not have desk staff available for all of these classes, so late arrivals will often not be possible. We ask that our clients use the parking spaces that are closer to the wall across from the entrance to the building, to provide ample parking for the clients of the regular tenant businesses, who have been so kind to welcome us into their community.
We will be adding classes and instructors to the interim schedule throughout the month of October and updating the regular schedule that will be in effect in November. Subscribe to the
Currents Blog
or Follow
Maya Whole Health Studio
on Facebook in order to stay up-to-date about interim class offerings; details of Grand re-opening; and to stay connected with your favorite Maya instructors and practitioners, who will be offering up stories and dropping knowledge through those media throughout the closure.
Maya health practitioners will also be offering very limited medical and massage services at AHH, for clients who had treatment plans that were interrupted by the closure. We wish we could fulfill every request for appointment with our stellar healers! For new or returning clients, we will be starting to schedule appointments again for November and December in the coming week. Feel free to drop a line with your appointment request, including practitioner and your availability for appointments to our main studio e-mail and we will do our best to get you in as soon as possible.
In the meantime, from all of us to all of you- Happy Autumn Equinox! Best wishes for a fall time full of gorgeous colors and warm foods, and hopefully lots of visits to a newly refurbished Maya Whole Health Studio.
---