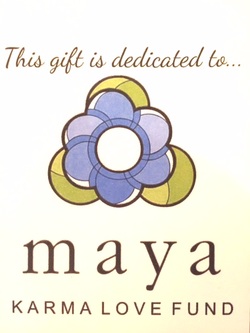 If you have been to Maya, you know we strive to offer a balance of options for you to pursue a holistically healthy life; Yoga, Pilates, Massage, Acupuncture, Naturopath, Essential Oils and more! With the launch of our new Karma Love Fund this March, we are hoping to offer the services that you know and love to people who may not be regularly able to afford them.

You can always donate at the front desk or come to our by-donation benefit class on March 19th at 5:00pm. We will also be hosting our annual Birthday Event to celebrate our 6th year! We invite you to come and enjoy a wonderful time together with Maya staff and community members. There will be food, drinks, games, photo booth, raffle, and other general shenanigans. We are also holding a Silent Auction where you can bid on items in order to help fund this new initiative!

Get involved by donating something for our Silent Auction - homemade soup, a photo shoot, dog walking, art work, a weekend getaway - nothing is too small or too big! Grab a Donation Item Form from the Front Desk ((or scroll down for an online form) and take some time to give back to the Maya community.

Every time you donate money or an item for auction, you will have the opportunity to fill out a dedication card that we will display around the studio! You can write down the reason you're donating or dedicate the gift to a friend, family member, or even your favorite instructor or practitioner. We are so grateful to have a community that pours into one another, we hope this can be another avenue for that to happen.

While we will focus on the Karma Love Fund for the month of March, it will be available for donations year-round. If you know of someone who might be interested in our services, but maybe doesn't have the means, please direct them to the application on our website, which will be available March 19. We are very excited to be able to begin offering aid to those experiencing hardship, thank you so much for your continued support of Maya and everything we do!


Maya staff voice their support for Karma Love Fund::
Kristen Swanzy::
I have always felt like health care was something of a luxury that was to be avoided because it was too expensive. Alternative natural care was even further out of the question, since it often seemed even more out of reach due to insurance limitations. When I started to understand medicine as a form of preventative care, I realized that investing my medical expense budget on a healthy me keeps me healthy.

Fortunately more and more insurance plans are covering acupuncture, massage, and naturopath. However, for those who do not have these coverage plans or who can't afford to invest in these alternative practices I am proud to say that Maya Whole Health offers a means of making whole health possible for our whole community. Please help show your support for providing every person with an opportunity for wellness by donating to the Karma Love Fund.
​


Malia Dullanty::
Whole health is more than just taking care of ourselves, it also means caring for others. I think the Karma Love Fund is an excellent way to really engage in that external piece. When we give back to our community, it builds us up as well. There are so many people who benefit from the services we offer and we would never want those services to be inaccessible due to lack of funds. The Karma Love Fund will offer help and allow us to pour into our community, truly creating whole health for everyone involved!

Can't see the Silent Auction form? Download it
here.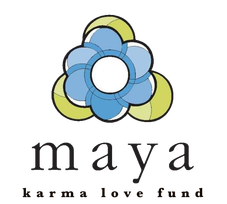 1322 Lake Washington Blvd. N. Ste. 3 Renton, WA 98056 425.271.0200 www.mayawholehealth.com