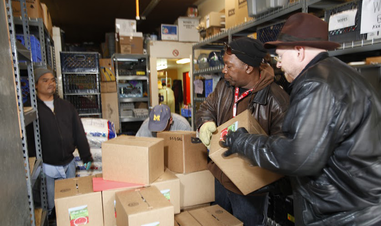 The month is December. The time is now. Please join us in supporting the Maya Community Benefit Partner of the month:
Rainier Valley Food Bank
.
In a day and age when our country's economy is on an upward trend, many of us will be enjoying the fruits of our labors this month with hearty feasts and gifts and treasures shared with loved ones under trees and otherwise. But there are some of us who won't. How many will need assistance just to get a hot meal this holiday season? Who out there in our community might be feeling the pangs of hunger and want even more poignantly this time of year?
As we revel in holiday merriment (or snuggle up inside ourselves and our homes), taking some time to intentionally scan the perimeter and perhaps see what isn't right in front of us can reveal opportunities to deepen our experience of the season. The joy of giving to those who are most in need, whether we know or see them each day can have a profound impact on our health and well-being, in multiple ways. Caring for the well-being of our community reverberates to ultimately touch everyone. If each of us picks up a couple extra cans or boxes of food and drops them in the bin conveniently located at Maya, or drops a $1 or 2 in the donation jar, we can make a powerful impact on alleviating hunger and increasing the joy of our neighbors across the lake.
Rainier Valley Food Bank has been helping feed the hungry or deliver food to those unable to leave their homes for over 4 years, and this year is no exception. In 2014 the food bank distributed over 1.2 million pounds of food through over 50,000 visits to the food bank. They provided enough food to feed over 190,000 people. That's quite an impact- and we are honored that Maya Whole Health Studio has been asked to contribute to it.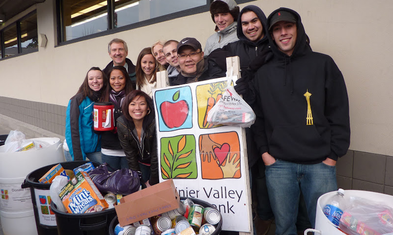 How the Food Bank distributes:Individuals needing food assistance may choose from three different programs:
On-site Food Distribution Days, for people wishing to shop and select their own foods.
Home Delivery, for people with severe disability who are unable to get to the food bank.
To-Go Food Bag, for people without access to a kitchen and in need of pre-prepared foods.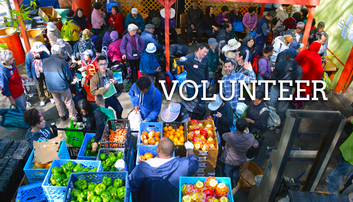 "When you donate to RVFB, your money goes primarily to our food budget. Our local, national and government partnerships and subsidies allow us to buy more food with $1 than you are able to at the grocery store. We stretch your dollars far and make your donation count!"
"Close relationships with our food bank guests help us to understand what specific kinds of healthy and ethnic foods are needed to feed local families. We serve a very diverse community of people from all over the world."
So let's do it up Maya People! There are a few ways you can support RVFB in promoting health, fitness, and joy this month.
1) Monetary donation either dropped into the jar on the front desk at Maya or online through
RVFB website
.
2) Nonperishable food and other items (pet food, diapers, sanitary products) in the basket at the front door.
3)
Sign up
to volunteer at Rainier Valley Food Bank, either for a special event, monthly, or weekly.
To fully immerse in the spirit, attend one of our by-donation Community Benefit Classes and dedicate your practice to the nutrition of our community through RVFB:
Saturday December 12, 5:00 pm
Thursday December 24, 10:00 am
Questions about how RVFB operates?
Please email
info@rvfb.org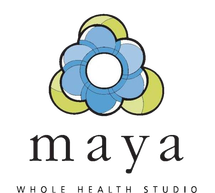 1322 Lake Washington Blvd. Ste. 3 Renton, Wa 98059 425-271-0200 www.mayawholehealth.com