One of the challenges of living a long healthy life is maintaining our balance. I talk about balance often with my students. I believe that it is helpful to be reminded that as we age our sense of balance will shift and may even be lost if we do not regularly practice it. Loss of balance can begin for women in their early 30's and men in their late 30's, and continues the older we get. However, unlike vision or hearing, balance is something that we can easily improve. In as little as 4 minutes a day you can see a noticeable improvement, no mater what age you are, after just several months.

As a yoga instructor I would encourage you to incorporate balance work into your daily home practice. If you have not gotten to the point of having a home practice, don't let that stop you from improving your balance. Here are two simple things that you could do starting today:
1. If you wash your dishes by hand, or even while you are loading the dish washer, stand in front of your sink and lift one foot. Keep the foot lifted for about 30 seconds and then switch sides. Do this several times with each leg.
2. If you have a Sonicare toothbrush stand on alternating feet as your toothbrush goes through the 4 quadrants. This will mean the you do both legs twice. And if you brush your teach twice a day that's 4 minutes of balance work each and every day.
​
These are just two examples, you could use this practice doing anything in your life where you are standing still. The important thing is don't wait, start today, and let me know how it's going after your first 90 days.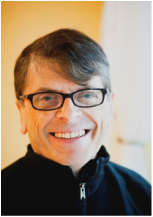 Connecting with Alec Davis :: Finding Balance
"Balance is not something you find, it is something you create."
​Find out more about Maya instructor Alec Davis
here.