Connecting with Heather
Customer Service | Karma Love Fund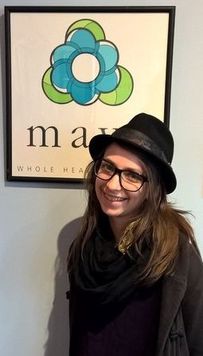 So much has happened at Maya since I started my employment here back in August - it's hard to believe it has only been 5 months since that first day on the job. I recall clearly though, one of my first interactions was with a client who was so kind and encouraging. The first day at a new job is always nerve-racking, but this client's warmth and understanding gave me reassurance that Maya Whole Health Studio was a community I wanted to be a part of. As I've lived and learned, navigating difficult situations and encountering people from all walks of life, I've come to realize the importance of kindness as a guiding value in my life, so I'm pleased to have found a workplace that aligns with my values and incorporates kindness as a foundation for each interaction.

That's why it seems fitting to me to celebrate the 7th Anniversary of Maya Whole Health with a 21-Day Kindness Challenge: a challenge for each of us to intentionally expand on our personal practice of kindness, and strengthen our habit of both acting in kindness and acknowledging kindness each day.

There has been so much emphasis on the darkness in our world lately. While it is important to stay aware and informed, too much focus on that darkness can make it hard to find the light we each have to share. To alleviate the fear and anxiety so many are feeling, we crafted this Kindness Challenge as a way to draw our focus to the good happening around us everyday. As we come together and make an impact on the larger community, we can be rejuvenated in our power to create and expand kindness and it's impact... And win prizes, too! :-)

I'm excited to see the kindness through the eyes of each and every one of you!

Heather

---
21-Day Kindness Challenge: How it Works

Each day, Maya staff will post a specific challenge in kindness on our
Facebook page
; on our
online community
page; and in the studio.
If you meet the challenge (on your honor), you can let us know one of two ways- either posting online or posting a heart on the Kindness Challenge Board in the studio with your name and as many details as you are willing to share about your experience on that particular challenge.
Each challenge heart will have a
raffle ticket
attached, that you will fill out and drop in the raffle jar. You can enter up to
21 times
, one time for each challenge. For everyone who posts online, Maya staff will fill out a heart on your behalf and enter the raffle ticket.
On February 25th
, we will host
a celebration gathering
of kindness, at which we will be drawing
lucky winners
for various prizes. The grand prize will be the choice of a
$100 gift certificate
for anything at Maya OR free entry into all workshops for a year. Everyone who completes all 21 challenges (even if out of order) will also receive a certificate for a Maya branded t-shirt or tank top of your choice.
Here we go...for DAY 1...we start off with a BIGGIE.
Day 1: Perform an extraordinary kindness for yourself
The challenge for the first day,
Sunday February 5th
, is to perform an extraordinary
kindness for yourself
. Being kind to ourselves is sometimes the hardest and most easily dismissed form that kindness can take. It may also be
the most important
form of kindness. Only by taking care of ourselves will we have the energy and the ability to give others the attention, love, and kindness they need to thrive in this world.
"
Self-love is an oceanand your heart is a vessel. Make it full,and any excess will spill over into the lives of the peopleyou hold dear. But you must come first.
"
Beau Taplin - Self Love
So... make an intentional effort today to be
extraordinarily kind to yourself
:
take yourself for a long walk (or to
a yoga class
that you didn't think you'd find time for?); spend extra time doing something you enjoy; let yourself splurge on that coffee or cupcake or book you've been craving; look in the mirror and acknowledge the beauty in your own eyes; forgive yourself for that silly mistake you made five years ago. And if you're willing, tell us about it. Share how that kindness felt to you? Was it easy to accept? Or did you resist it? As much or as little as you are willing to share...the most important thing is for you to know, you met your challenge for the day.