NOVEMBER COMMUNITY BENEFIT PARTNER:
---
Yoga Behind Bars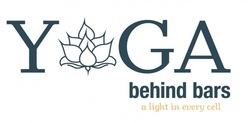 Yoga Behind Bars programs benefit physical and mental health as well as improve the overall well-being of our students. We build a bridge between people on the "outside" and people behind bars, because we believe incarcerated people are US. We are all connected. Our students are the parents of your child's best friend, they are someone's brother or sister, son or daughter. They will be our future neighbors, co-workers and community members.
Our award-winning programs have been proven to be a powerful tool for restoring the connection between mind, heart and body. In addition to a host of physical benefits and improving overall well-being, yoga and meditation have been scientifically proven to:
Reduce depression, anger, and anxiety, often a root cause of antisocial behavior and drug use.
Be an effective adjunctive therapy during treatment for drug addiction, which is a co-factor in many of our students' incarceration.
Increase self-esteem, no small thing for youth, women and men who have often received the message that they are worthless and no one cares about them.
Decrease hostility and mood disturbances, improving interactions with corrections staff and among prisoners.
Drastically reduce rates of recidivism, people who practice yoga and meditation behind bars are less likely to return to prison once they have finished their sentence.
Donate at the studio throughout
the month of November.

Benefit Yoga Class
Thursday Thanksgiving Day
10:00 am



Donate directly through the

Yoga Behind Bars Website

DONATE
"When I come to yoga class, I leave with an open clear mind. I feel that yoga gives me peace and patience without any substances other than what the body produces. It really helps my joints after sitting on hard surfaces all day and night and helps remove any stiffness. Thanks a lot."
Male, 64, Black, Monroe Correctional Complex


"Yoga has brought me self-awareness, better flexibility, self love and a better understanding of my body."
Student, Washington Corrections Center for Women in Gig Harbor




---
Other Maya Community Benefit Partners Include: