Tell Us Your Story :: Spotlight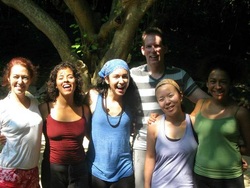 Who doesn't love a good story? Your stories of success in health, fitness, and joy are the best form of marketing we have for Maya Whole Health Studio.
We don't do much advertising- we prefer to let word-of-mouth build our community, and put our $$ into community benefit efforts and development of the highest quality staff possible. If you are a client at Maya, you know that our staff put heart and soul into the work they do, and you probably know that our community is full of great stories.
So here's what we are asking from you, our valued clients... if you have a story to tell that can provides insight or inspiration about your experiences at Maya Whole Health Studio- whether about overcoming adversity, reconnecting with a new level of joy and love in your body, or maybe just a funny anecdote that helps bring perspective, please share it with us on the form below. We will fine tune and bring your story to an appreciative audience. Don't worry about spelling, grammar, or syntax- our staff will do any fine-tuning necessary to assist in crafting your narrative.
Chosen stories will be featured on our web site, Facebook, and in our monthly newsletter. Spotlight story tellers receive a $50 studio credit for sharing energy and inspiring others.
THANK YOU!!!
---