Maya Medical Services

Neuromuscular Therapy (Bowen Technique)
Neuromuscular Therapy and Bowen Technique
The Bowen Technique is a remedial, hands-on therapy that is applied using very gentle pressure. The practitioner uses thumbs and fingers on precise points of the body to perform Bowen's unique sets of rolling-type moves which stimulate the muscles and soft tissue of the body. There is no manipulation or adjustment of hard tissue and no force is used. The experience of a treatment is gentle, subtle and relaxing. It is believed that the Bowen Technique prompts the body to reset, repair and balance itself and clients report the experience of pain relief, improvement of function and recovery of energy.

Bowen Therapy is a gentle effective and therapeutic technique that reactivates the innate self-healing mechanism in the body. This technique is extremely effective on acute injuries, and utilizes specific soft tissue or fascial release and integration techniques. Bowen Therapy stimulates specific receptors that enable the body itself to correct dysfunctions and restore homeostasis (balance) on a holistic level. Through treating the cause rather than the symptoms Bowen Therapy has consistently shown it can have profound and permanent healing and pain relief outcomes. Bowen Therapy treats the whole body, and its holistic effects are apparent in patients who find resolution to problems above and beyond those for which they have sought treatment, for example lack of energy, stress or emotional issues.
Visits
(40-50minutes)
– $85
​For patients requesting their insurance
company be billed, please visit our
Insurance Guide
page.
​
---
Meet Our Practitioner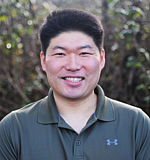 Neuromuscular Therapy/Bowen Technique


Jeong Lee is a graduate of Renton Technical College Massage Therapy Practitioner Program. He has been a massage practitioner since 2010 and specializes in Bowen Therapy. Jeong's approach is perfect for the individual not looking for deep tissue massage, but rather a more energetic, integrated, and holistic approach. Full Bio.
---
---