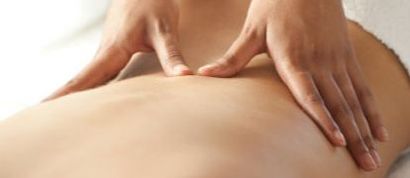 Massage
Maya practitioners offer a variety of bodywork treatment options:

Swedish | Deep Tissue | Deep Muscle Therapy | Injury Treatment
Pregnancy | Reflexology | Bamboo Fusion
---
Wellness Massage services are completely customized to meet client needs and preferences. Practitioners may use a combination of massage styles to meet the unique needs of each client.

PRICING
60-Minute Massage – $87 | 90-Minute Massage – $118
​
Package of 6 Sessions
(All sessions must be scheduled within 3 months of purchase)
6 x 60-Minute Massage- $420
6 x 90 Minute Massage- $570

Wellness massage includes a short intake with practitioner to determine client needs and preferences; and a full 60 or 90 minute treatment.

Practitioners use the highest quality of massage oil and cream products, including Pure Organics Jojoba Oil; Pure Organics Coconut Oil; and may incorporate the use of aromatherapy from Maya Pure Essentials or Doterra lines (also available in our retail area), as well as the use of specialized massage therapy bolsters and bamboo tools.

All Maya practitioners are highly trained and skilled in the practice of bodywork. Our practitioners are healthcare professionals who are dedicated to ensuring top-notch massage services that promote health, fitness, and ease in movement for our clients.
​
Our practitioners can often provide helpful consult and relief for our Wellness Massage clients regarding healthcare concerns ranging from anxiety to frozen shoulder; insomnia to hot flashes; pulled hamstring to migraines, and other commonly occurring conditions.

However, Wellness Massage is not charted or coded and practitioners do not require a referral or prescription for massage. This type of massage is not generally eligible for reimbursement by health plans and no itemized medical receipt is generated.


---

Medical Massage services are customized to meet client needs, based on treatment plan provided by medical practitioner and information provided by client during intake and during the treatment.

1 Hour (4 units) Medical Massage – $120
(CPT Codes 97124 or 97140. Billing available only for PIP and L&I)
1 Hour Prepaid Medical Massage - $69
Prepaid Tui Na, Cupping, Medical Spot Massage- $30

Medical Massage requires a prescription or referral from a health care professional legally qualified to issue a ICD-10 diagnosis code and a treatment plan that provides diagnosis code, number and frequency of treatments, and duration of treatment plan.

Medical Massage can be billed directly to Personal Injury Protection (PIP), when treatment is related to an auto accident or to L&I, when practitioner is treating for a workplace injury.

Medical Massage is not eligible for direct billing to major medical insurance plans. If you have a benefit on your medical plan for massage and you have a current treatment plan on a prescription or referral, you may request Prepaid Medical Rate for massage services and receive an an itemized receipt to submit to your insurance company, FSA, or HSA for reimbursement. Reimbursement is dependent on terms of your plan benefit and cannot be checked or guaranteed by Maya Whole Health staff.

One Hour Medical Massage provides for 10 minutes of intake assessment, charting, and follow up; 50 minutes of direct treatment; billing services for PIP or L&I claim; and an itemized receipt that provides treatment codes and proof of payment.

---

Prepaid Medical Massage Services are available for any client who has a valid referral/prescription. Major medical plans that often provide medical massage benefits include:

Premera
Regence
Blue Cross/Blue Shield of Illinois
GroupHealth
First Choice
United Health Care
Aetna
Cigna
Molina

Maya Whole Health Studio cannot provide information regarding your health plan benefits. If you are planning to submit an itemized receipt for reimbursement, we strongly recommend that you contact your insurance provider to determine whether your services are covered under your plan and at what level. Please see our insurance guide for specific questions to ask.

Maya Whole Health Studio massage practitioners are highly rated healthcare practitioners and have been credentialed in several networks. Several health insurance companies include them on lists of in-network providers, but our LMPS/massage practitioners do not have a current contract to provide discounts or billing services for the massage treatment they provide at Maya with any health insurance company. All contracts were terminated for massage services, and we are waiting to receive updated contracts that will cover the cost of providing services. Until that time, we cannot provide billing for these services to medical insurance companies, and services will typically be provided at out-of-network rates.

Click Here

for intake forms and for more information regarding our insurance policies

*Maya Whole Health Studio has Naturopath Doctors (NDs) on staff who can provide evaluation and treatment plan for medically warranted massage services.

Click Here 

for more information on Naturopath Health Care services.
---
Meet our Therapists
---
Medical Hardship
Maya Whole Health Studio provides subsidies for treatment in circumstances of unique hardship through our Karma Love Fund.
To apply for assistance, ask at front desk or contact
Studio Coordinator
for more information.
CANCELLATION POLICY Naturopath - Acupuncture/EAMP – Massage – Private Lessons
You may cancel an appointment 24 hours prior to service with no financial penalty, with a maximum of 2x/month.
Cancellation with less than 24 hours notice may result in a charge of $45.00.
In the event of a no-show, you will be charged the full amount of the service scheduled: $87.00 for Wellness Massage and $69.00 for Medical Massage.
Late cancel and no show fees will be charged to the card on file. No further appointments can be scheduled until balance is paid in full.