Jeff Trudeau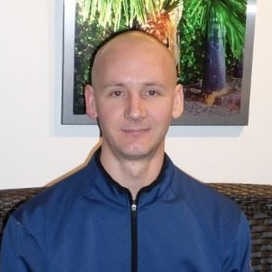 Yoga

"Life begins at the end of your comfort zone. "

The quote above has led Jeff Trudeau to a more fulfilling life with the belief that If we never open ourselves to the possibility of failure, we will never learn anything. Born and raised in Renton, Washington, Jeff and his wife of over 10 years live there today, raising their daughter into their active lifestyle. Whether it's camping, skiing, hiking, softball, or soccer, they stay closely knit, and continue to build their home on the foundation of family and its reminder that all things are possible.

That foundation is represented in his wedding ring, which was lost on a Hawaiian island the very first day of his honeymoon. Some symbols are meant to be, and the ring was found by a snorkeler and returned to Jeff safe and sound. It hasn't left his hand since.

Born in 1976, the same year as the Seattle Seahawks, Jeff has followed the team as long as he can remember and is now a season ticket holder. A football fan overall, Jeff would choose the opportunity to talk with Walter Payton, whom he considers the best football player ever.

Jeff finds inspiration in his yoga students, sharing what he knows to help them find what they're looking for, even when they don't know what that is. He also understands the value of rest and relaxation, envisioning time off as a chance to empty his schedule, but fill his heart with family and friends.

As he grows older and wiser, Jeff gets the importance of doing what he wants, yet making mistakes that may make him vulnerable, knowing this is the meaning of "live and learn". What three things does Jeff want to be remembered for? That he worked hard, respected everyone and everything and is the best husband and Dad he knows how to be.
---