Maya Whole Health Studio Influencer Program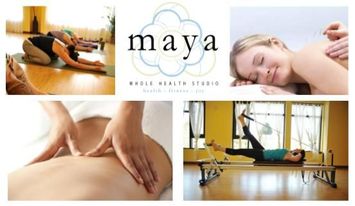 Greetings! Welcome to the Maya Whole Health Studio guest influencer program. Through this program, you can treat your guests to a special discount for massage, acupuncture, natural medicine, yoga, and pilates- while also getting credit for yourself to enjoy any of these services provided at Maya.

Each time a client comes to Maya Whole Health Studio for any class or service and utilizes the VIP Pass you provided or tells us you referred him/her, we will give you one influencer credit. Each time you accrue 5 influencer credits, you will receive a $50 studio credit to use for classes, massage, or acupuncture services.

In addition, just by setting up an influencer account for us to track referrals, you will automatically receive one week of unlimited group classes; a one-time 50% off pass to use for any wellness massage or prepaid acupuncture treatment; and a 10% VIP discount for every time you visit Maya for a prepaid service after that!
---
How it works:
Create an account at Maya Whole Health Studio online. Go to mayawholehealth.com/influencer. Click on Create an account. Be sure to create the account under the same name that you will be writing on the guest pass coupon cards. This part is very important - we can't credit your account if you haven't already made one!
Start referring clients to Maya Whole Health Studio! Provided are VIP Guest Passes. Give these to your clients so they can receive a 10% discount at Maya Whole Health Studio! Be sure to write your full name as it appears on your influencer account; the name of your business; and the date on the guest pass.
When your clients bring in their VIP Guest Pass that you gave them, we will create a punchcard for you.
After 5 clients have redeemed their VIP Guest Pass, the account you created will be credited with $50.00. Someone at our front desk will give you a call to let you know when this happens!
What can clients use the VIP Guest Pass discount for?
The
VIP Guest Pass
discount can be used towards:
Wellness Massage Services, including aromatherapy and/or hot bamboo
East Asian Medicine and Naturopathic services, including doctor visit, acupuncture, cupping, and/or tui-na
All group classes and class packages
Private Pilates and/or Yoga
Gifts, Apparel, and Accessories
The
VIP Guest Pass
cannot be used towards insurance billed services, food and beverage, medical remedies, herbs, supplements, or skin care items. The
VIP Guest Pass
is for new clients only and may only be used 1 time per client. The
VIP Guest Pass
has an expiration date of 1 week from the date it is issued.
What can your $50 credit be used for?
You can use your $50 credit towards the same things that your clients can use their
VIP Guest Pass
discount towards. The same restrictions apply. There is no expiration date for your credit.
​