Employment at Maya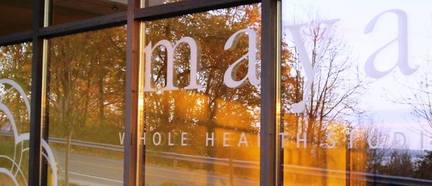 Maya Whole Health Studio values community, kindness, and determination- and our outstanding staff reflect those values in the work they do each day in service to our mission of promoting greater health, fitness, and joy!

From our top-notch health care practitioners and instructors, to our friendly front desk staff, Maya employees are dedicated and passionate about the mission of Maya Whole Health Studio.

If you are interested in employment at Maya Whole Health Studio, the first step is to visit the studio. Participate in a group yoga or Pilates class; enjoy a workshop; schedule a massage or acupuncture appointment; or simply browse our health boutique. It's important to have a real life sense about what life is like at Maya, for you to know if it's a good match.

Once you've had a chance to visit and you feel like it would be a good fit, check our current employment listings for open positions. Read carefully what we are looking for (with special attention to schedule and payrate), and send us an e-mail to employment [at] mayawholehealth [dot] com with the position you seek in the subject line. Explain why you are interested in employment at Maya Whole Health Studio and how you could be an asset in fulfilling our mission. Include a summary of your experience and training that qualify you for the position you seek and/or attach a resume in a format that we can open from a PC. We make every effort to acknowledge and respond to inquiries in a timely manner. If you don't get any response within 10 days, please call or e-mail to confirm that your message was received.

IMPORTANT NOTE: While we encourage potential candidates to visit the studio, we respectfully request that applicants not engage front desk or management staff in person or by phone to discuss employment opportunities, unless you have a scheduled interview. Thank you!
---