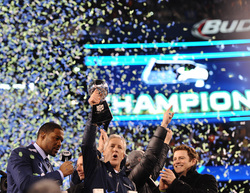 "Just because you make a mistake doesn't mean that you don't have all the good in you — for your future. People make mistakes all the time. We learn and grow. If there's patience and love, you can work through that and find your greatest heights." Seattle Seahawks Coach Pete Carroll


As we move into Day 8 of our Practice in Presence, we are still basking in the glow of the Seahawks Superbowl win just one week ago. What better time to reflect on these wise words from a coach who has rocked the world of professional football with his success in using an unorthodox approach to build a winning team? Setting intention and mindfully staying present with it- or more accurately, returning to presence with it, again and again, has proved to be a winning formula for our neighbors on Lake Washington Blvd. N. An important element in staying present is showing love and patience with yourself when you make a mistake or drift away from that intention.

How can you use the winning Seahawks formula in your life and practice? Are there mistakes you've made that have provided learning and growth that you can acknowledge and now let go? Are there ways you can show yourself greater love and patience?