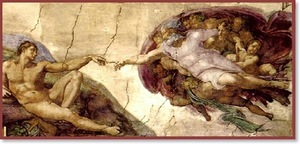 "An individual who is established in Being can harness the power of sankalpa to bring about the spontaneous fulfillment of any desire." Deepak Chopra

When you first begin to work with sankalpa, the practice can seem full of contradictions. You start by identifying what you want, but the only way to realize it is to acknowledge that you are or have that very thing already. You set specific goals, and you commit to breaking habits. Yet, at every opportunity to act in line with these goals, you must first acknowledge that you are already perfect and whole. Without that affirmation and true belief in your connection to the divinity, you will lack the power to fulfill those goals in sustainable manner, aligned with sankalpa.

This contradiction is the essence of both sankalpa practice and nondual teachings. It all goes back to this idea that each of us is both being and becoming. There's the part of us that is transcendent, already perfect and one with the universe, and doesn't need anything. We also have a part of us that comes into life with a purpose and a destiny and is always growing and evolving or becoming. To realize your truth and fulfill your nature, you must find a way to integrate these two seemingly opposite aspects of being and simultaneously becoming. It's vital for happiness that you walk both paths. Direct your energy with intention, but be mindful that your nature is unchanged whether you achieve your goals or not. Live as contentedly as possible in between the goal and realizing the goal. Again we create our intention and then surrender it.

To put it simply, we are all perfect and getting better all the time. How does it feel to you to state, "I am perfect"? Does it incite internal voices of opposition? How about saying, "I have everything I need"? Does this calm you or inspire fearful thoughts? Can you reconcile the ideas of being and becoming, all at once?