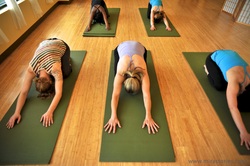 "Serenity is not freedom from the storm, but peace amid the storm."

At the moment of sankalpa, there is no anxiety and no stress. You are in a state of peaceful self-awareness with a clear mind and open heart. Try these simple steps every time sit with your intention and see if it helps with your practice in presence.

1. Count your breaths for a few minutes. You can count down from 27-->1, but the goal isn't to reach 1, instead be present with each breath. Repeat to yourself mentally "I am breathing in 27, I am breathing out 27. I am breathing in 26, I am breathing out 26. I am breathing in 25, I am breathing out 25. And so on... If you lose your place, or if you catch your mind wandering, gently bring it back to the breath and start again "I am breathing in 27, I am breathing out 27...". Again the goal isn't to reach the end of the countdown. Be free from the urge to reach 1 and enjoy staying at 27 for as long as it takes to begin focusing the mind

2. Eventually the mind becomes totally calm, soothed, , a chamber of silence and stillness. Watch your mind, don't get hooked by any particular thought; you are an observer, not a reactor or a doer. Shift your awareness from the superficial experience of the breath to that place of peace and calm hidden just beneath. This quiet place is available for you to connect with at any time and offers freedom from thoughts of habit, giving us a greater awareness of what is.

3. Then send a quiet, yes, very quiet, message to the forces of the subtle world. This open positive statement allows you to receive your intention from a place of fullness. YOu feel complete even before you bring your intention into your mind.

4. Now you are ready to plant the seed of your intention in your mind. Once having done so, just leave it there… surrender it to the forces, the universe, the divine will. Don't struggle as there's no need to struggle. Release your intention and rejoice.

Do this process daily and you will begin to sense what your course of action should be to achieve your intention. You will find yourself taking that course of action. The 'forces' will send you unexpected helpers and help from unknown sources. Be clear and as open as you can possibly be when you are sitting with your intention. Open yourself to possibility, and know that you are in perfection.