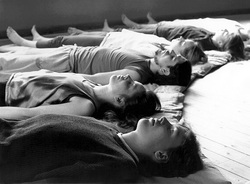 Of all the meditation techniques available, Yoga Nidra may well be one of the most accessible and powerful techniques for individuals of all levels of experience. What makes this meditation technique so appealing is that it's done while lying on your back while remaining completely relaxed. You honestly couldn't ask for more comfort when it comes to ancient yogic techniques! Even for the experienced meditator, Yoga Nidra provides an excellent alternative or companion to each one's meditation practice. Yoga Nidra is not only an incredible technique to help realize your true nature, but it is a priceless resource for recovering from any physical, emotional or mental turmoil you have experienced in your life. Stress, fatigue, anxiety, ill health, confusion, and unwanted habits can all be removed with the help of Yoga Nidra. Insomnia can be cured and the ability to experience deep, restorative sleep can be attained. In fact, during continued practice of Yoga Nidra, you should expect to find your sleep patterns improve dramatically, even to the extent of needing less time for sleep while feeling completely rested and rejuvenated.

The depth and extent to which Yoga Nidra can change your life can depend largely on your intention or what is called in Sanskrit "Sankalpa". The Sankalpa in Yoga Nidra is scientifically guided to take place at certain stages within the practice so that the seed of intention can be planted deep within the subconscious levels of mind. When we plant the seed of intention deep within, we are bypassing the conscious mind that tends to accept and reject things based on its conditioned patterning. Thus, allowing for suppressed emotions and thought patterns to surface without being filtered through the habitual patterns of attachment and aversion.

The power of the Sankalpa is so strong when applied during the practice of Yoga Nidra, that the Yogis remind us that it should be used with great intelligence and purpose, such as for personal development that leads to self-realization as it was originally intended. When we work with a spiritual Sankalpa, as in developing the desire to realize the Self, or Atman, in turn, all of our problems, habits and tendencies will also be resolved and we will become more balanced, happy and fulfilled. In short, the Yogis might say "Go for the Gold"- make your intention the highest spiritual goal, and all else will come!

When working with intention, or Sankalpa, it is suggested that you stick to working with one intention at a time, and use it continuously. We invite you to bring your intention from the 28 Days Practice in Presence with you to your practice of Yoga Nidra. You will keep it the same until it has come to manifest. The time required to manifest your intention depends on both the nature of your Sankalpa, the degree to which it is planted in the mind, and your sincerity and deep felt desire to manifest your intention. So join us for this practice that will plant the seed of your intention into your life so that it will grow.