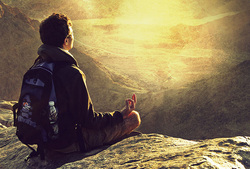 "Intention is the core of all conscious life. Conscious intention colors and moves everything." Master Hsing Yun

If setting an intention is about reaching toward something deeper, then part of setting an intention involves listening carefully to learn what your heart wants, what you desire deeply for the being you already are and the individual you are meant to become. Setting an intention involves identifying that desire and, with skill and care, inviting that purpose into your life through open actions, which reflect that quality or thought or desire.

It's our work on the mat and through meditation that helps us learn to listen and get in touch with these deep desires. Our poses help us feel the first stirrings, and those stirrings evolve from wordlessness into thought and speech, which in turn compel us to act. Setting our intention is an evolutionary act in that our understanding of our intention develops over time as we learn to recognize it, and bringing that intention into the world and into our lives help live in truth with our nature, the fullest sense of our being.