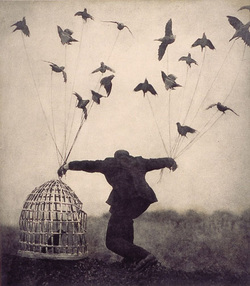 Being and Becoming: Finding the courage to fly

By Kristen Swanzy-O'Conner

We all have lofty goals for ourselves and the practice of Yoga allows us to be open to all possibilities. A Sanklapa, however, must be rejoiced and released. We cannot dictate the form it takes, instead we must allow it to manifest through the subtle. The way the I helped myself to understand the non-duality of intention: the being and becoming simultaneously, was to consider the story of Dumbo the elephant. The big eared elephant had no confidence to start. Growing up in a world of ridicule and mockery, he didn't believe in himself. When it was discovered that he could fly, he resisted. He rejected his ears, seeing his ears as something that isolated him as different. When he was given the "magic feather", however, everything change. This feather gave Dumbo the courage to fly and fully express acceptance of his ears. There was certainly nothing "magical" about the feather; the ability to fly was his all along, but the confidence to fly out on his own was lacking. When was challenged to fly without his feather towards the end, he found the courage through the support of friends and the truth that had been with him all along, he was special. When I work with an intention, it often feels like this. At first I am holding onto my intention for dear life, feeling unsure and unfit for the challenges present, however if my intention is rooted in reality, in truth, than it is bound to come true. Only when we surrender intention, when we open it up and allow it to take whatever form reflects the truth within, are we able to see it manifest.