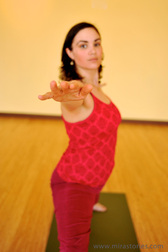 We All Start Somewhere- by Kristen Swanzy O'Connor
I enter a small studio space with cubbies and all sorts of things that I have never seen before on the shelves. There is only one room with a hard wood floor. I take out my mat, feeling very confident that I had my own. I watch everyone grabbing props, everyone has a different set up. I copy a few people who look sure of what they are doing, trying to maintain my composure of confidence.

When everyone takes their seat, there was finally silence. I remember at first being incapable of sitting still, forget trying to be comfortable.

The soft nurturing voice of my instructor woke me from my quiet frustration.

"What do you need?" She asked.

"What?" I thought, completely surprised that I should be aware of what I needed. I had never before considered Yoga as something that would align me with what I want in life, or what my body needed that day. As instructed, I went to my breath and watched it point out tension in my shoulders and neck and in my hips. I didn't try to fix these areas that were speaking to me, but I became aware of them. And that awareness grew greater and more powerful with time.

Eventually, I started to feel good- to rest my body and relax my mind. Pain and distracting thoughts stopped demanding attention and I was able to focus on being present in the room, in my body, in a joyful place within, my happy place.

We all start somewhere. For me it started 12 years ago when I walked into my first yoga class with my first mindful teacher. I hope that the 28 Days Practice in Presence reminds you all that YOGA is not just something to "do" in the studio- it is rather a practice of observing the constant changes that we are all going through and staying connected to your inner truth while all these changes are occurring. By giving your practice an intention you are aligning your motivation with your natural truth, allowing acceptance of the being you are and becoming it with every breath you take. Blessings to you all. Namaste!

Please join us tomorrow, March 1st, at 5:00PM, for a free Intention Living Workshop with Kristen Swanzy-O'Connor. We will be accepting donations for New Beginnings.